A veil of sadness lies over the oppressively hot summer days. Cleo dives into daydreams with her cousins, the girls share secret signs and rituals. Flowing gently, in impressionistic images, the empty space that the death of Cleo's sister has left in the family is poetically encircled.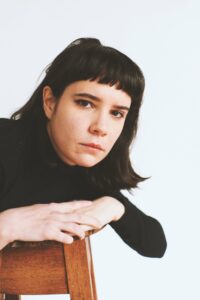 Sol Berruezo Pichon-Riviére
Sol Berruezo Pichon-Rivière (02-19-1996) is a 26-year-old Argentine director and screenwriter, graduated in Film Direction from the Universidad del Cine (Buenos Aires, Argentina). In 2017, at just 21 years old, she won the first prize in the INCAA (The National Institute of Cinema and Audiovisual Arts of Argentina) contest to support the first films by new directors.
"Mom, Mom, Mom" (Mamá, mamá, mamá) is her first film, shot only by women: both in the crew and in the cast.
Her debut film was premiered at the Berlinale in 2020 in the Generation section, where it was awarded the Special Mention by the International Jury. She was also the youngest director of the 70th Berlinale. The same year, her film had its premiere at the San Sebastian Festival.
At the end of 2020 she obtained the support of the Biennale College Cinema to make her second film with her producer Laura Mara Tablón. "Nuestros días mas felices" (Our happiest days)  was shot in 2021 and had its premiere at Mostra Internazionale d'Arte Cinematografica della Biennale di Venezia 2021.
She's currently developing her thir film "Love, sex and tears" and writing her first novel.