Ivie is a graduate with African roots and in search of steady employment as a teacher following an internship. "Schoko" (literally: "Choco"), as she's known to her friends, lives in Leipzig with her best friend Anne and is working on a temporary basis for her ex-boyfriend Ingo at Bondi Beach Solarium. Suddenly, her younger half-sister Naomi from Berlin shows up at the front door. Ivie had no idea she ever existed. More confusing still is her news: Their father has died in Africa. All of a sudden, the salient question is as to whether she will travel to Senegal with Naomi for the funeral. But first of all, the two of them have to get to know each other. Ivie has the feeling she suddenly represents a culture she doesn't even know with a nickname she cannot accept anymore!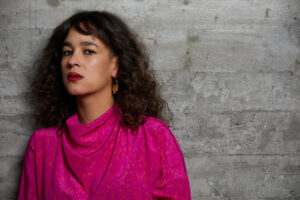 Director Sarah Blaßkiewitz
Sarah Blaßkiewitz worked on film productions in the directing and camera departments parallel to her studies in audiovisual media (2006 to 2011). Her graduation film AUF DEM WEG NACH OBEN premiered at the Max-Ophüls Festival, and her short film BLANK was released in 2016 and screened at many festivals. In 2017, she received development funding for her mini-series concept SUPERCREW. Most recently, she directed the final season of the series DRUCK, which premiered in January.