As Lisbon's old city center transforms into a trendy tourist hotspot, the "fado" songs and their lyrics become more relevant than ever in describing the people's pain over the loss of their culture.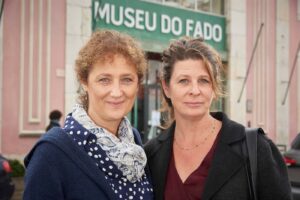 Judit Kalmar and Celine Coste Carlisle are filmmakers who come from different fields: Celine is a Swiss Portuguese visual artist, and Judit, is a Hungarian journalist.
Silêncio – Vozes de Lisboa (Silence – Voices of Lisbon) is a documentary set against the backdrop of a gentrified Lisbon. Following the footsteps of Céline – a local foreigner who has lived in Portugal for 20 years – we are introduced to Ivone Días and Marta Miranda, two female artists from different generations who fight for the survival of their art and their community. Their common language is Fado, a traditional style of music that talks about the daily struggle of living. With the lyrics of fado songs taking us through the story, the film explores the relationship between fado singers and the ever-changing world around them.